Due to a mixture of holidays, sickness and breakdowns en route there was a slightly smaller group of club riders present for round 7 of the West Midlands Cyclocross League at Blackwell Adventure Centre.  However, this was more than made up for by the vocal support from club members and their friends and family and there was little doubt as to the loudest supporters on the day.
Riders were presented with the usual Blackwell set up and whilst there was a fairly greasy surface, due to fresh rainfall,  the course itself was thankfully less heavy going than in previous years thanks to a fairly dry autumn so far.  Riders got to test themselves against a series of tight switchbacks, a mixture of gravel, mud, wooded single track and a very steep and twisty descent plus a few tough uphill sections and a small step just tempting enough for riders to  bunny hop over.
For the very young riders in the U6 and U8 race a last minute change to the course removed some of the challenging hilly sections but still presented a fairly tough course with many riders having to dismount and run up the some of the climbs.  In the U6 boys Samuel Boazman finished in 8th place and Mollie Cook managed another podium finishing 3rd in the U6 girls category.  Jayden Cook picked up a 16th place finish in the U8 boys event.
Three club riders were involved in a busy U10 race which saw 38 riders take to the start line.  There were strong rides from all of the club members, particularly James Saunders who picked up a 10th place finish and was closely followed by George Gregory 12th and Daniel Philpotts 15th.
In the U12 race Joe Greening and Felix Forrester continued with their strong form so far this season and picked up 11th and 12th   place in the boys category.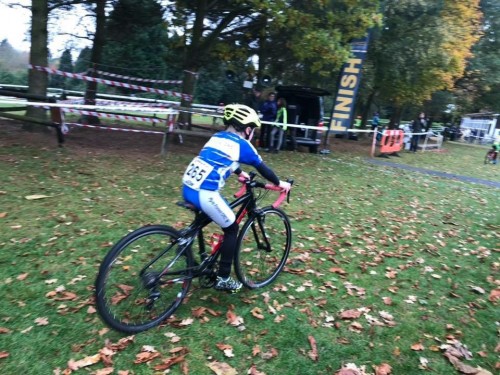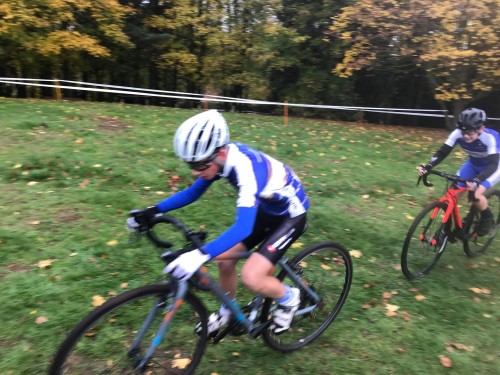 With a number of regular riders missing in the youth race Kim Greening was left to fly the blue and white flag and picked up 7th place in the U14 girls categories.
The vets and senior races saw the return of all of the club regulars this week.  In the V50M category Paul Gibson and Mike Haddon completed the cycling equivalent of a Nelson (cricket if anyone is wondering) by finishing 17, 17 in the V50M and V55M category respectively.  In the women's category Rosie Hopkins returned to action and had another great ride to finish in 5th place in the V40F category.
In the final race of the day 111 senior riders took to the start line . I struggled throughout the race, following a week of cheese and wine in France, ending up finishing in 22nd place.   Rob Grimes had another outstanding ride to finish in 6th place in the V40M category, however will no doubt be slightly disappointed given his exceptionally high standards and fact he has pushed for a podium place each week so far this season.