The combined U6/U8 race started the days racing and it was a tough loop round the lake given the length of each lap with riders doing well to manage 3 laps during the 10 minute race. Mollie Cook had a fantastic ride and continued her excellent start to the season coming home in first place to take the top step on the podium in the U6 girls category.  In the U8 boys race Samuel Boazman put in one of his best rides so far this season to come home in 12th place.
In the U10 events there was another large field of riders with 35 competitors taking to the start line. George Gregory had a superb ride finishing highest placed of the club riders in 9th place with Jayden Cook coming home next in 21st place after another good performance on a tough course.  There was an equally large field in the U12 race with 36 riders at the start and it was another excellent ride from Joe Greening who has shown great consistency so far this season finishing in 10th place.
Charlie Cooper was the only youth rider competing for the club this weekend, and has a really good first season as a club rider so far, and this continued this week battling round four laps of the longer course to pick up 22nd place in the U14 boys category.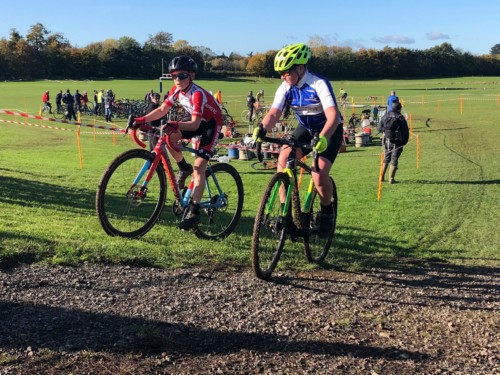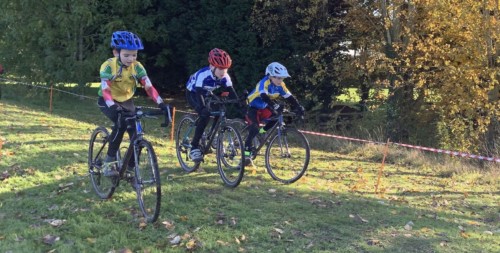 It was a real mix of results in the veterans race with Paul Gibson, who has been excellent so far this year, struggling with his form from the start and ending up with his first DNF since returning to cyclocross racing last year. Mike Cooper however put in one of his best rides of the season so far and looked really strong from start to finish picking up 7th place in the V65 category and it was good to see Mike Haddon back after a week off picking up 21st place in the V55 category.  Rosie Hopkins was the sole female competitor once again and the conditions clearly suited her with another strong performance coming home in 8th place in the V40 event, which was particularly impressive given the unusually strong starting line-up, which featured veterans Isla Rowntree and Tracey Moseley who have not always featured regularly so far this season.
The senior race was the final event of the day and there was a slightly reduced field of 96 riders at the start, probably due to a combination of half term, closed roads en route and predictions of the race being a mud fest which never materialised.  As expected Rob Grimes was yet again the stand out rider for the club on the day and produced one of his best rides of the season to date coming home in a superb 5th place in the V40 category only just finishing outside of the podium places.  I had a fairly average race and did not really get going at any point so was fairly relieved to just get round, finishing in 27th place in the senior category and Martin Cooper had another good ride, showing great consistency so far this season, to finish in 24th place in the V45 category