After what feels like an eternity it is nice to be able to finally report on some race results as the first few events tentatively open up and it is hopefully a positive sign of more events to come.
Easter Classic Odd Down Bath Circuit Race
It was worth the wait as Max Hinds returned to pre lockdown ways and registered his first win of the season in a strong line up in the U14 boys category. He was joined by Sam Abbott who also had an excellent ride to finish  in 9th place in a field of 18 starters.
VTTA 15 mile Time Trial K47/15 course Welland
2 club members made the trip to Welland on the rolling K47/15 course with the weather being the main feature in a race that included sun, strong winds, rain and sleet and temperatures barely above freezing in what felt like a reassuringly familiar start to the British TT season!
Ken Bradbury finished the course in 53rd place with a time of 43:02 and 41st Veteran on the day. I finished in 47th place with a time of 40:36 and 37th vet on the day.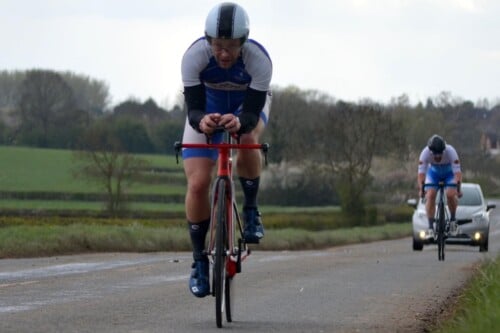 National Youth Omnium 17th April Mountbatten Centre
Max Hinds made the long trip down to Portsmouth in the search for some rare track action in the national omnium series on the outdoor Mountbatten Centre track.  It was worth the journey  with Max picking up win number two taking the overall omnium title having finished second in the time trial and first in the scratch, elimination and sprint events