Whilst it was a quieter week in terms of total races for club members there were a series of excellent results.
On the 3rd July Ely Race club hosted the latest round of the Stourport summer series. It was really exciting to see three Wyre Forest ladies taking part in the women's E/1/2/3/4 race, including first timer Rosie Hopkins who has made the shift from complete novice to club time trials and now circuit racing this year and if rumour is to be believed has even signed up for the forthcoming cyclocross season. Well done Rosie!
Even better all three ladies finished in the top ten picking up BC points with Jacquie Philips finishing 4th, Sue O'Shaughnessy 8th and Rosie Hopkins 10th.
In the men's 3/4 race on the same night Samuel Jones finished in 12th place just outside of the points. On Sunday 8th Sam also raced in the Solihull CC hosted 2/3/4 race on a tricky Inkberrow course and finished in 31st place out of the 67 starters.
On the 5th July Joe Greening raced in the U12 Western Cyclocross summer series at Pitville and finished in a brilliant 4th pace despite competing against the older age group and having not ridden a cyclocross race for over a year.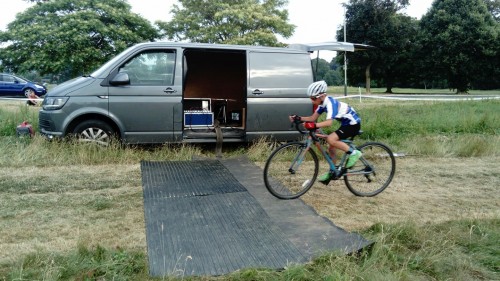 At the Lichfield CC hosted racing on the 7th July at the curborough circuit it was another great day for Harry and Aimee Lane with both riders winning in their respective races and Harry picking up his first win of many.