It has been another action packed few weeks of racing for club members with people taking part in circuit racing, both regionally and nationally, road races, time trialling and cyclocross.
Tuesday 18th June 2019 – Stourport Summer Series Round 7
Charlie Genner was involved in the latest round of the Stourport Summer Series and secured 7th place in the 3/4 category race but unfortunately did not pick up any further BC points as he chase his 2nd category licence due to a reduced number of entrants on the night
Saturday 22nd June – Lichfield CC, Curborough Sprint Track
 Seven club riders were in action at Curborough on the 22nd June.  In the U8 girls race there were superb rides from Emma Saunders and Mollie Cook who picked up 2nd and 5th place respectively, whilst Jayden Cook was the sole club rider in the boys category picking up a strong 6th place finish overall.
In the U10 boys category there was a particularly impressive ride from James Saunders who was unlucky to just miss out on a podium spot securing a superb 4th place, and he was closely followed by Harry Lane in 8th.
Max Hinds had another dominant ride in the U12 boys event picking up 1st place and another win to add to his impressive set of results so far this season.  With Posie racing in Minehead Aimee Lane was the only other club rider in action and secured an excellent 2nd place podium finish in the U16 girl's race.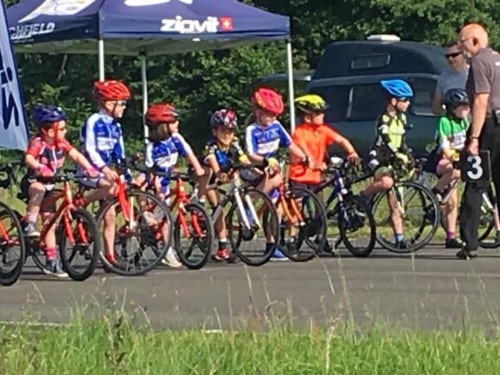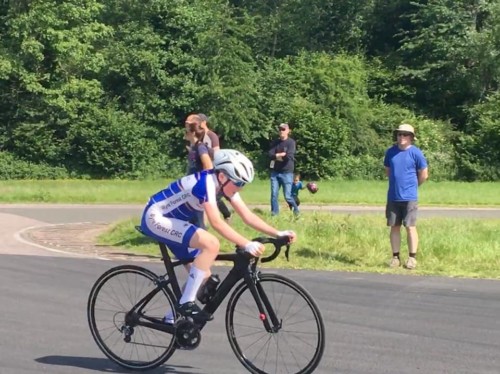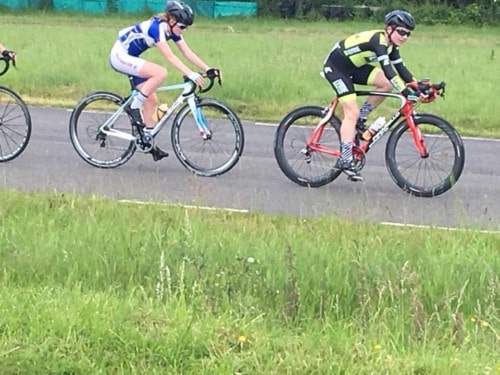 Saturday 22nd – 23rd June– National Youth Series, Minehead
Two club riders made the journey down to Minehead to compete in the national youth series event over the course of the weekend in what is always an exciting series of races over a technical street circuit.
Posie Forrester was involved in races on both the Saturday and Sunday and had two strong races against a very competitive field of riders to end up in 29th and 17th place respectively.  Max Hinds travelled down on Sunday and clearly took his excellent form from Lichfield with him to secure a brilliant 1st place in the U12 boy's race against some strong opposition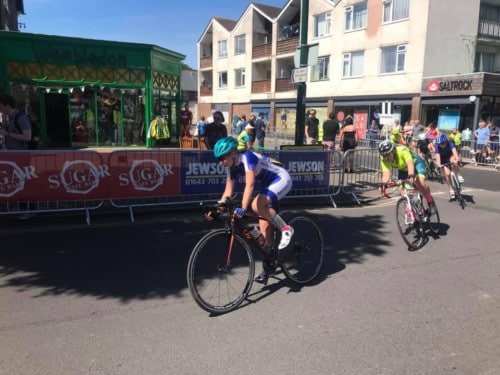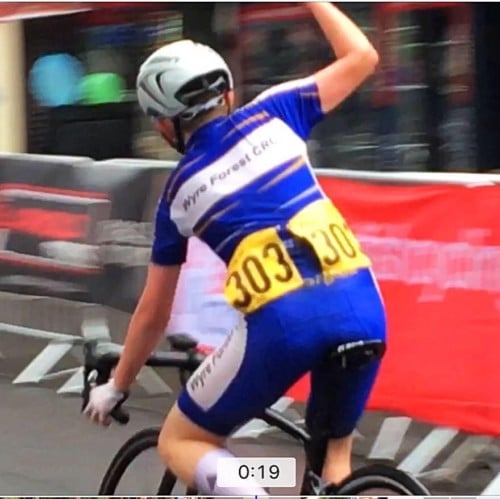 Sunday 23rd June- Redditch Road Race, Inkberrrow
Charlie Genner was involved in the men's 3/4 road race on the well-known Inkberrow circuit in a race that featured 3 laps over rolling terrain and a total of 50 miles. It was another brilliant ride from Charlie who has demonstrated his outstanding talent during both circuit and road racing this season picking up another top 10 spot finishing in 9th place out of fifty plus starters.
Saturday 29th June – Queen Victoria Cyclo Cross 2019, Ironbridge
The annual Queen Victoria cyclocross race at Ironbridge museum is always a special event set in a particularly unique venue. This year's event did not disappoint, with some superb rides from club members and impressive debuts for Ian Bunch and his bionic hip and also from Tim Tranter, having banged on about his future cross career all through the winter turbo sessions.
Posie Forrester, almost an Ironbridge veteran these days having ridden in previous years was first off in the "Vagabonds and Chimney Sweeps (Youth)" race for the club and had a great ride to pick up 5th in her category and 20th overall.  She was closely followed by Nate Bunch who finished 7th in his category and 22nd overall.  It was also great to welcome new member Charlie Cooper who had a brilliant first race for the club finishing in a superb 9th place overall and 4th in his age category.
Tim Tranter was next off in the "convicts, hooligans and gentleman's (senior) bike race" and demonstrated his superior bike handling skills and importantly avoided any further finger injuries to complete a superb first effort on what is probably one of the toughest courses around to make a cross debut on finishing in 37th place overall and 29th in his category.
Despite featuring a fairly select field of riders Rosie Hopkins continued to show her love of all things cross, whatever the time of year, to secure a 5th place finish and 2nd in her category in the "unchaperoned women's bicycle race".  Ian Bunch, half man half machine, had a great ride in his cross debut finishing in 48th place and 30th in his age group in the "retired servicemen and country gentlemen's (veteran) race whilst unfortunately Mike Haddon ended up as a DNF in the same race.
There can be little doubt though as to the clubs cyclocross senior star yet again with Rob Grimes, despite suffering from a niggling hamstring injury, putting in an outstanding ride to finish 2nd place overall and in his age category during the vets race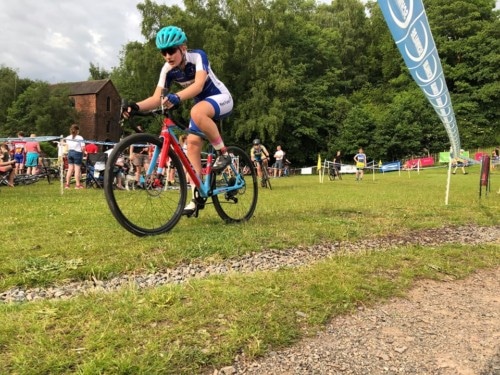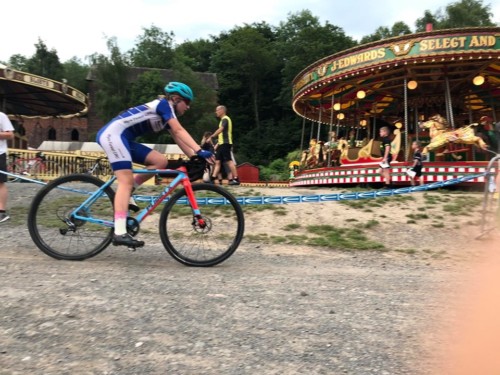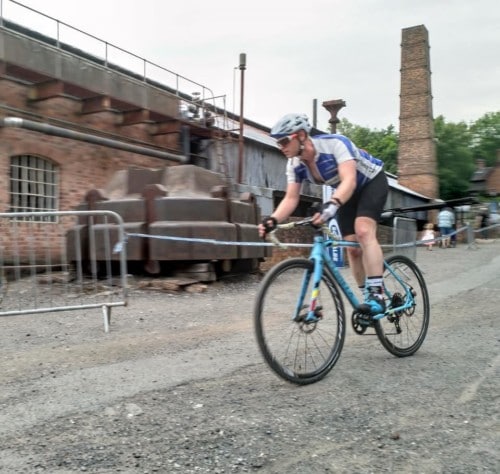 Sunday 30th June – Severn Valley Series  Shrewsbury #R7
Five junior riders made the trip to Shrewsbury for round 7 of the Severn Valley Series. The latest round featured a circuit race and time trial for each of the age categories.
In the U8 girls race Emma Saunders picked up another podium finishing in 2nd place in both the race and time trial respectively, whilst Mollie Cook secured 5th place in both events and had a huge improvement in her time trial time.  In the U8 boys Jayden Cook finished in 7th place in both the race and time trial.
In the U10 boys event James Saunders finished in 7th place in both events whilst Max Hinds doubled up with a first place finish in both the U12 race and time trial.
Charlie Genner was also involved in the adult racing which followed the youth races in the combined men's 2/3 event and picked up 5 more BC points finishing in 6th place out of 18 starters.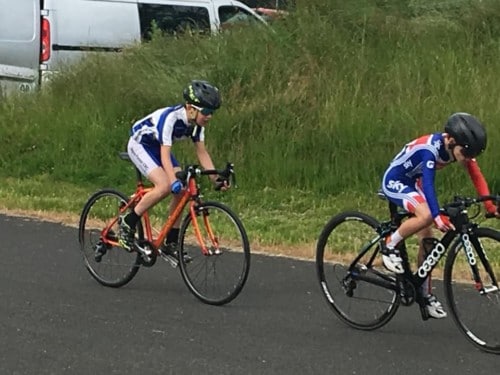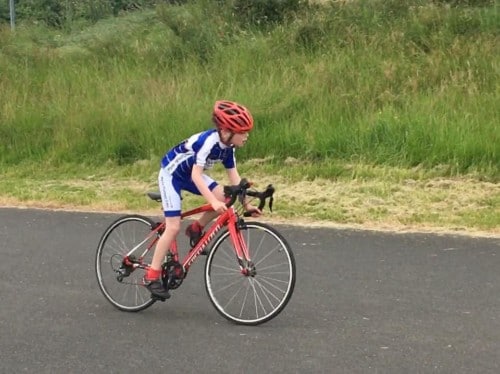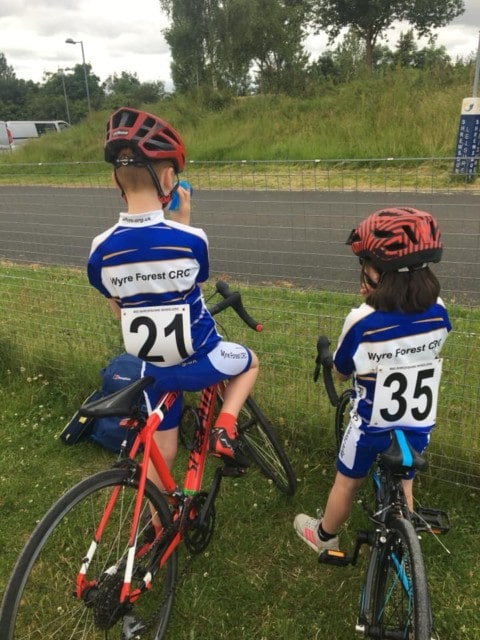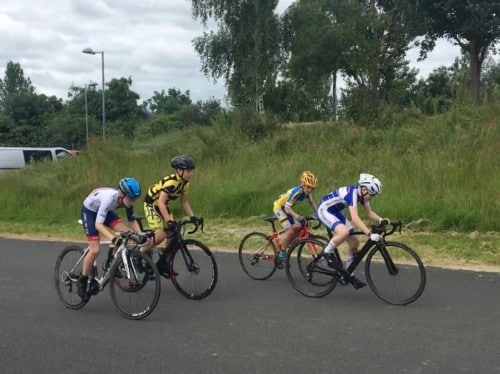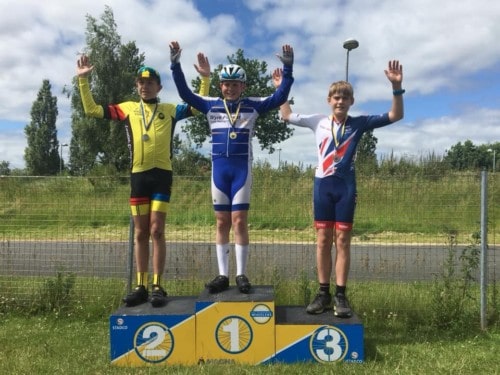 Tuesday 25th June, Mallory Park Leicesterhire
It was another worthwhile trip for the Hinds family over to Mallory Park with Max Hinds securing another win in the hilly criterium round and retaining his overall series leader's jersey for another week. This was off the back of winning the previous week's event on the 18th June as well.
Tuesday 25th June – Stourport Summer Series Round 8, Stourport
Charlie Genner had a superb ride in round 8 of the Stourport series managing to get in break early on which lasted through the race and despite being beaten in the sprint was still able to pick up a great 2nd place finish and earn 8 more BC points.
Thursday 27th June – R10/17 Open 10 mile Time Trial Abergavenny
Craig Hopkins made the midweek trip to Abergavenny for the Open 10 mile TT on the R10/17 course and finished with a time of 23:31 at an average of 25.5mph just shy of his season best time to finish in 31st place overall and 17th fastest veteran on the day.
Tuesday 2nd July 2019- Stourport Summer Series Round 9, Stourport
Charlie Genner picked up 7th place and secured 3 more points in round 9 of the summer series
Sunday 7th July – HSBC UK National Youth Circuit Championship, Scarborough
Max Hinds made the long journey to Scarborough for the famed national youth championship at Scarborough on a closed circuit course that features a brutal climb during each lap and is designed to test the very best riding talent from across the UK.
Max rode his usual characteristically aggressive the race and battled to stay in touch with the leaders throughout in a race that featured a large and very talented field of riders and was able to secure a strong 15th place finish in his first attempt at the event from 43 starters further underlining his talent and potential as a rider.