It was another excellent week for WFCRC club riders across both the adult and youth events with two races in particular standing out, the men's 3/4 Tuesday night race at Stourport and the boys U10 race at Curborough on the Saturday.
Four riders were involved in the Worcester St John's hosted round of the Stourport summer series on Tuesday 19th June. Race of the night and arguably the highlight of the week came in the men's 3/4 race with Jono Goulding just managing to outsprint fellow club rider Samuel Jones to take an outstanding Wyre Forest one two finish. Jono picked up his 3rd win of the series in the process and Sam continued his consistently strong riding with both riders now on the cusp of their 2nd category licence. One race was clearly not enough punishment for Sam who also raced in the E/1/2/3 race a short while later picking up another point with a 9th place finish.
In the ladies race two club riders were involved, in what was a disappointingly low turnout, with Jacqui Phillips and Sue O'Shaughnessy taking 2nd and 3rd place respectively.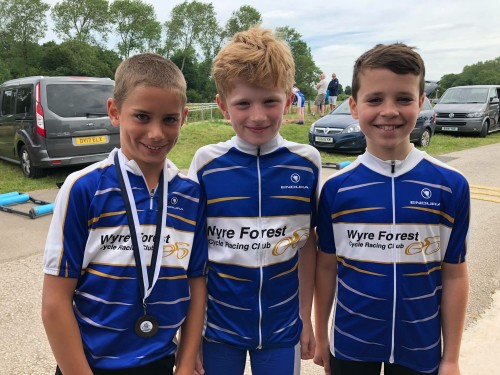 On Saturday 23rd 9 youth riders were involved in the Zipvit/Lichfield CC promoted event at the Curborough track. There were some excellent performances from all of the riders that took part with Harry Lane picking up a great 2nd place in the U8 boys race to match his older sister Aimee's result in the U16 girls. However, the clear highlight of the day came in the U10 boys with Joe Greening, Jenson Groves and Archie Bentley finishing in a superb 2nd, 3rd and 4th place and demonstrating a great team ride from all three of them. Full results from Curborough as follows:
U16 Girls            Aimee Lane – 2nd
U14 Girls            Posie Forrester- 8th
U12 Boys            Felix Forrester- 18th
U10 Boys            Joe Greening- 2nd, Jenson Groves- 3rd, Archie Bentley- 4th.
U8 Girls               Ruby Bentley- 3rd
U8 Boys              Harry Lane- 2nd, Jayden Cook- 8th.