Youth racing has dominated the last few weeks activities as the youth racing season slowly draws to its conclusion ahead of the summer holidays whilst we all patiently await any actual summer weather!  A number of riders have been in action and they have continued to  produce a series of superb results throughout the different age categories.  There have also been some strong individual rides in senior races both male and female and Time Trials.
Saturday 1st June – Hillingdon Youth National Series
Three of the clubs regular long distance travellers made the trip down to Hillingdon for the youth national series to compete in the U10 and U12 boys race and U16 girls event.  Harry Lane was first off and finished in a superb 5th place in the U10 boys.  It was another strong ride from Max Hinds to pick up 1st place in the U12 race despite the change of venue and facing some new competitors, whilst Aimee Lane faced a very strong and large U16 girls field and finished in 26th place overall.
Sunday 2nd June 2018-  Wyre Forest West Midlands Regional Youth Series Stourport.
Wyre Forest hosted  the regional youth series in what has been a familiar story so far of wet and windy conditions, particularly for those unfortunate to be in the later races on the day.  Despite the conditions there were strong rides throughout and some quick times, with the club riders putting in a another strong series of rides.  There were also a large number of marshals and volunteers who helped throughout the morning and made it into another successful club event.
The U8 races were first off and there was an excellent ride from Ruby Bentley to secure another 1st place, where she was closely followed by four other club riders in a bumper field with Emma Saunders 4th, Sophia Crozier 7th, Mollie Cook 8th, Ivy Gregory 9th.  In the U8 boys event Jayden Cook picked up 12th place.
Only one WFCRC girl was involved in the U10 race but despite that Caitlin Pridden still managed to pick up a podium place with a superb 3rd place finish whilst the U10 boys saw a large number of riders taking part with James Saunders finishing highest overall in 8th place immediately followed by Harry Lane 9th, Zac Crozier 11th, George Gregory 16th and Jude Rushgrove in 24th.
There was no way that Max Hinds was going to settle for anything other than 1st place in the U12 boys event and he did not disappoint in a tactical race that came down to a sprint finish up the hill to the finish line where he was able to overpower his rivals.  William Pridden picked up a strong 11th place and Joe Greening 15th in the same race.
Three riders were involved in the U14 category with Flynn Rushgrove finishing in 20th place in the boys event whilst Posie Forrester picked up a 3rd place podium in the grils category closely followed by Kim Greening in 6th.   A special mention should go to Emma Saunders, Sophia Crozier and Jude and Flynn Rushgrove who all made competitive circuit debuts on the day.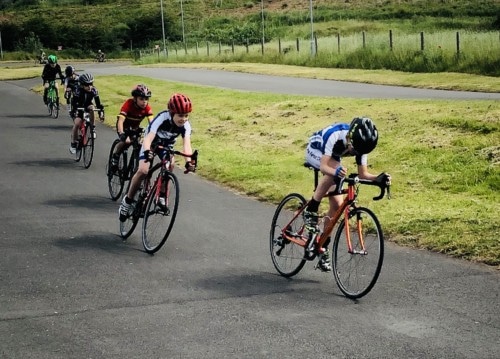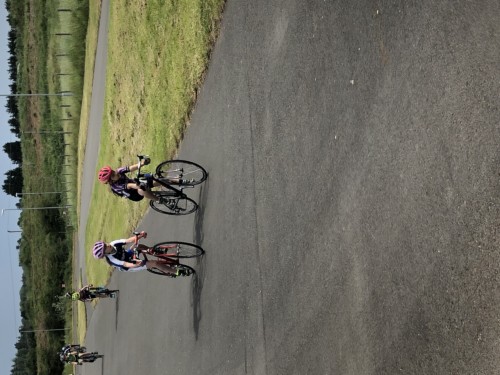 Sunday 9th June 2019 West Midlands Regional Circuit Race Birmingham City Centre
Birmingham City Centre and the roads around Aston University were the venue for this new city centre circuit race event on a tight technical course that featured all of the usual challenges you would expect from a city centre crit race.   This included a series of sharp bends, tight spaces and barriers anf the even more risky barrier feet!  10 club riders took part in the event.
In the U8 girls Ruby Bentley picked up another brilliant 1st place, Ivy Gregory finished 4th and Mollie Cook finished in 5th place.  Jayden Cook had a strong ride in the boys event to pick up a top ten with a 9th place finish.
In the U10 boys James Saunders had a very strong ride to finish in 4th, with Harry Lane in 10th and George Gregory 16th .   In the U12 race Max Hinds had to unusually settle for 3rd place having got boxed in at the final turn with no room to move up the bunch and a very short finishing straight to work with.  Posie Forester had another good race in the U14 Girls category and picked up 5th place.
In the U16 girls race Aimee Lane suffered a heavy crash into the metal barriers but managed to get back on her bike to finish in a remarkable 5th place.  It was later confirmed after a trip to hospital that she had suffered a fractured knuckle in the fall making the fact that she got back onto her bike and secure 5th even more impressive.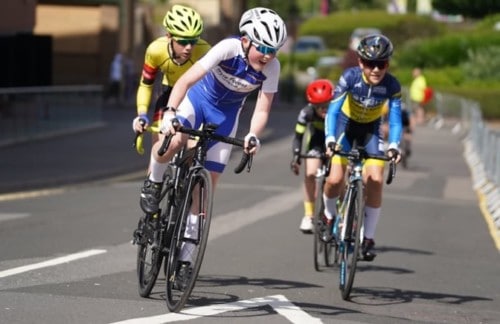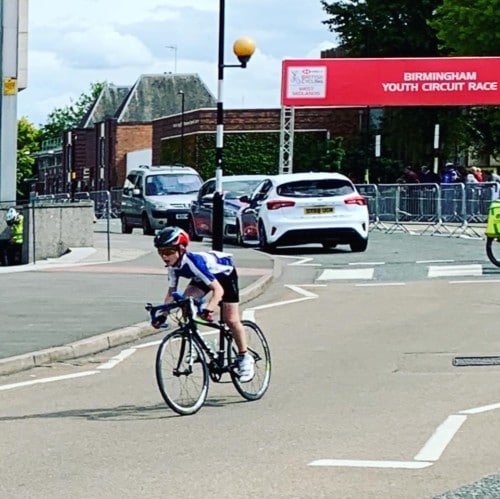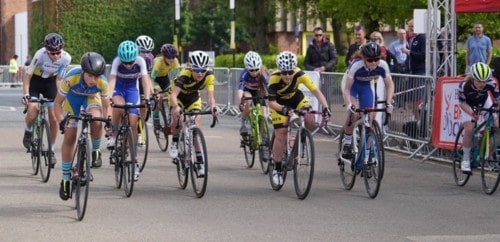 11th June 2019 Mallory Park
Gary Hinds seems determined to take this years travelling to well over 100,000 miles travelling to midweek racing alone and so set of on another Tuesday night trip to Mallory Park in Leicestershire as part of the East Midlands midweek series.  Then again who can blame them after what was another successful week with Max picking up 1st place in the sprint race and securing the series leaders jersey for another week.
15th June 2019 Beacon RCC 10 Mile Open TT, K33/10D
Sue O'Shaughnessy and Kara Tranter both rode in the Beacon open 10TT (women) even on the K33/10D course.  Sue picked up 4th place overall out of 20 starters with a time of 26:27 at an average of 22.68mph whilst Kara Tranter finished in 6th place with a time of 26:50 and an average speed of 22.36mph.
In the male event Craig Hopkins finished in 30th place out of the 61 starters who finished with a time of 23:11at an average of 25.88mph whilst David Prior picked up 54th overall with a time of 27:18 at an average of 21.98mph.
16th June 2019 Radnorshire Road Race, Llandrindod Wells
Charlie Genner made the journey to Llandrindod Wells for the category 2/3/4 Radnordshire Road Race on a rolling 17 mile circuit over 3 laps.  It was a reduced field, probably due to the heavy rain and windy conditions on the day, but the rolling course clearly suited Charlie and his excellent climbing skills and it was another really strong ride finishing in 10th place out of 29 riders who finished the event and picking up another BC point in the process.