It was a quiet week with few races in the calendar locally and a chance for a number of riders to have a rest week or start new blocks of training ready for the second half of the season. However, despite that it was another great week in terms of actual results.
On Tuesday two riders were involved in the Stourport Summer Series circuit races and in the mens 3/4 race Jono Goulding continued his fine form in WFCRC hosted events to make it two wins out of two with a trademark sprint to the line. Samuel Jones also had another strong ride and picked up more points finishing in fourth place in the same race to make it a great evening for WFCRC and put more pressure on Mike Haddon to keep hosting rounds of the series given the results this year at WFCRC run races.
Results from WSJ Open time trial will be reported as soon as they are live on the CTT website.
We also want to wish a get well soon to two of our outstanding youth riders who are currently out of action. Alex Brown was involved in a crash at the Friday Night Track League on Friday 8th which left him with a broken elbow. Max Hinds can't match Alex for cycling related injuries but did manage to suffer a broken arm in a school rounders match, proof he would have been safer on a bike, which will also put him out of action for the next few weeks. We wish both of them a speedy recovery and we also got to learn that there was another hidden talent in the club with Gino Bunchini demonstrating his skills as a plaster cast artist.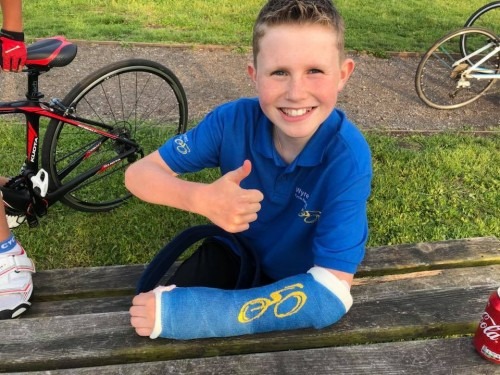 Finally, the results have now been posted for the West Midlands Youth Regional series and after the latest round, hosted by WFCRC, the club has now moved up into 3rd place on the overall rankings. Well done to all the youth riders that have raced so far this year.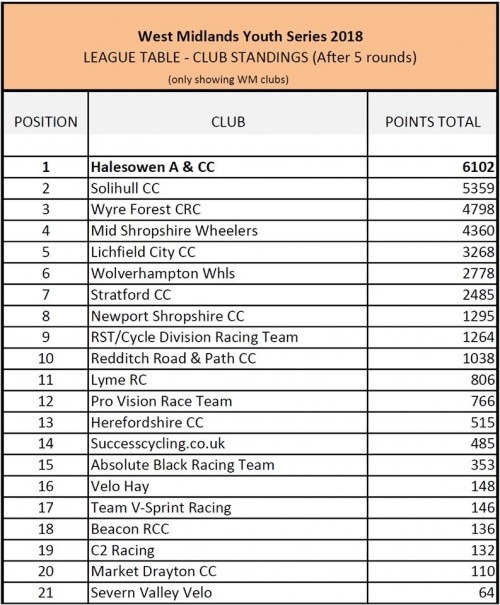 Matt