Another fantastic week of racing by WFCRC club riders, across both the adult and youth events. The highlight of the week was another superb WFCRC hosted round of the youth regional circuit races at Stourport on the 30th June. During blisteringly hot conditions a particular thanks should go to both the volunteers and riders who made it such a great day in weather more akin to a late stage of the Vuelta rather than racing at SSC.
Full results from the events are outlined below by age group with great efforts by all of the club riders:
U8 girls Caitlin Pridden 1st, Ruby Bentley 4th
U8 boys Harry Lane 6th, Ethan Jennings 9th, George Gregory 10th, Jayden Cook 14th
U10 Girls Fiona Maddams 5th
U10 boys Jenson Groves 4th, Joe Greening 5th,  Archie Bentley 8th,  James Saunders 9th
U14 girls Posie Forrester 4th
U16 girls Aimee lane 1st
U16 boys Charlie Genner 14th, Nathaniel Powys 23rd
With one round of the series left WFCRC currently lies in 3rd place overall.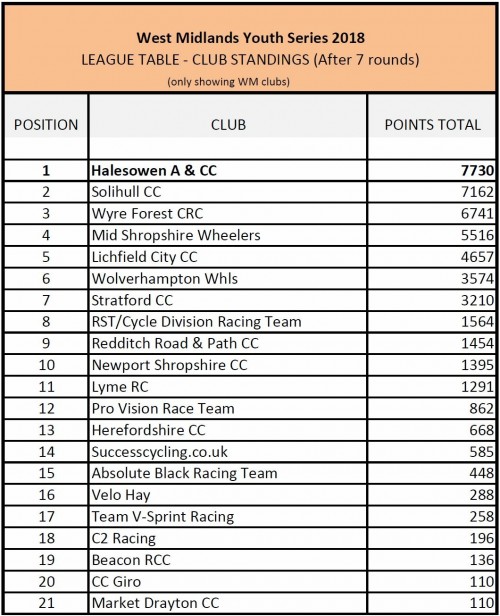 Away from the track three club riders were involved in time trials events.
Earlier in the week I decided to enter my first 25 mile TT on D25/24 course near Welshpool on the 28th.  This was a great event and really well marshalled if anyone fancies giving a 25 mile TT a go and the clash with the England Belgium match meant it was also gloriously car free. I ended up completing the ride in a time 1:02:14 finishing in 28th place out of 62 entries.
On Saturday 30th Craig Hopkins and Aimee Lane, the latter having already raced at the youth races earlier that day, both took part in the Race Around Rockingham event- a 10 mile closed road time trial around the Rockingham race track organised by TLI racing. Craig Hopkins recorded a time of 23:52 finishing 26th out of 72 riders overall and 2nd in his age group. Aimee Lane recorded a time of 24.35 to finish in 32nd place overall and 1st in the U15 group beating her nearest rider by almost three minutes.