It was good to see club riders involved in a range of disciplines including track, circuit racing, road and time trialing across a series of both local and national events and ages ranging from U8 to masters racing.
Halesowen 2/3/4 Men's Road Race Astley Circuit – 16th May 2021
Adam Bibbey had another good ride on the tough Astley circuit in the men's 2/3/4 event.  In only his second race ever and in a field dominated by 2nd category riders Adam finished in 39th place despite being one of only a handful of 4th category riders to enter.
Lichfield Youth Races Curborough- 22nd May 2021
There was a good turn out of club riders for the latest round of racing at Lichfield.  In the U8 girls race Victoria Milner-Lane picked up another podium with an excellent 2nd place finish. Harry Lane had a solid ride in the U12 boys category to finish in 13th place, whilst Jenson Groves came home in 13th place in the U14 boys event.  Star rider was James Saunders who picked up a brilliant second place finish in the U12 event. In the U16 event both of the Herbert brothers were competing with Kaleb finishing in 16th place and Isaak in 21st.
National Youth Omnium Series- 22nd May
Both Sam Abbott and Max Hinds were in action in round 4 of the national youth Omnium series, albeit in different parts of the country.  Sam made the relatively short trip to Halesowen who hosted a national round and finished in 22nd place overall after a tough day of racing.  Max travelled to Berkshire for the event hosted at the Palmer Park Sports Stadium picking up a podium spot at an excellent third place overall in a field of strong riders.
Stafford 10 mile open time trial K48/10- 22nd May
Sue O'Shaughnessy, midway through her marathon charity effort of riding 50 miles every day in May, also found time to compete in the Stafford open TT finishing in a time of 27:53 (average 21.5mph) to finish in 10th place.
Friday Night Track League – 28 May 2021
Sam Abbot continued his excellent form in the Halesowen track league finishing 2nd, 1st, 2nd and 4th on the night to remain top of the table.
Beacon RCC Open 10 mile time trial (Road bike) NEC Birmingham- 28 May 2021
Paul Darby clearly can't get enough of time trialing at the moment and took part in the Beacon hosted charity event at the NEC course during their 10 mile (later found out to be nearer to 9!) event for road bikes.  Paul finished with a time of 23:48  (average speed 25.21mph) to finish in 6th place overall and 4thfastest vet on the night.
British Masters Cycle Race Sevale Road Race 31st May
Ken Bradbury was glad to get back to racing action in the first masters event of the season in the Sevale hosted road race.  It was another excellent race from Ken finishing in 6th place in the combined F,G,H category race and second overall in his own category (G)
Mallory Park Circuit Race series- 31st May
Once again Sam Abbot and Max Hinds made the midweek trip to Mallory part for the circuit race series.  It was another strong night for both of the boys with Sam finishing in 9th place and Max picking up another podium and second place in a field of 20 riders.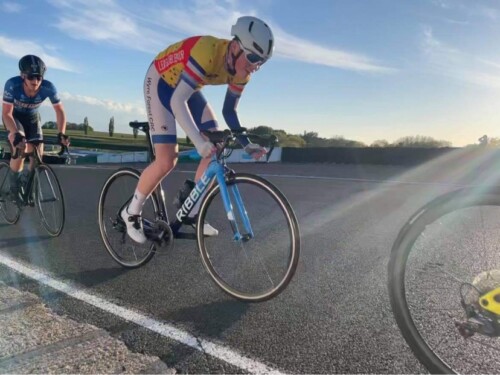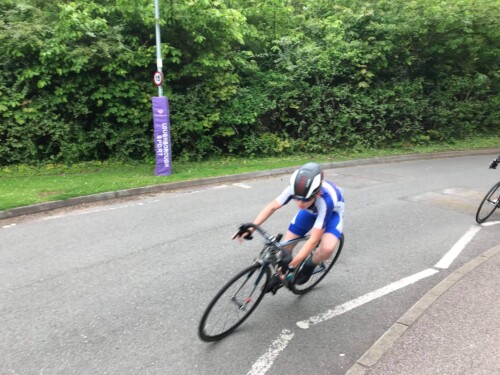 Loughborough national youth series – 31st May 2021
It was a day of mixed fortunes for Max Hinds and Sam Abbot at the national series. Unfortunately, Max had his first ever DNF getting stuck behind a touch of wheels with nowhere to go.  Sam had  another solid performance on a challenging course to finish in 31st place.