Youth and adult riders have been in action in time trials, circuit racing and track over the last week producing a series of great rides.
Mallory Park road race league round 1 
Max Hinds and Sam Abbott were both involved in the opening round of the Mallory park series on May 11th in more atrocious weather and both made strong starts to the series with Max producing an excellent ride to take the win and Sam coming home in 8th place.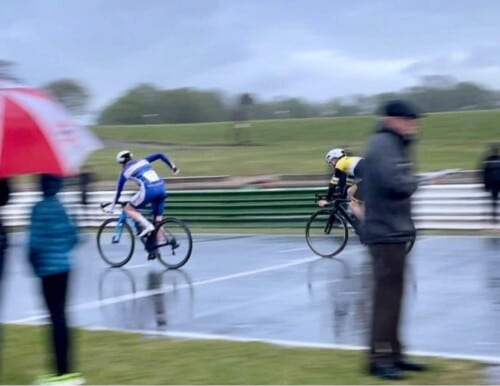 Friday Night Track League Halesowen 14th May
Sam Abbot continued his strong form into the second round of the Friday Night Track League at Halesowen picking up 4 wins on the night and taking first place overall.
Aerocoach Road Bike TT Championship K33/10S 15th May
A number of senior riders made the trip to Alcester to compete in the Aerocoach 10 mile championship and most were fortunate enough to be able to dodge the heavy rain storms.  Fastest riders on the day were Matthew Boazman and Paul Darby (appearing in his first race for nearly six years) who both recorded identical times of 25:02. They were closely followed by Craig Hopkins and Andy Knight.
– Matthew Boazman 25:02 (49th place and 26th Vet average 24mph
– Paul Darby 25:02 (49th place and 26th vet) average 24mph
– Craig Hopkins 25:35 (52nd place and 28th Vet) average 23.5mph
– Andy Knight 25:51 (54th place and 29th Vet) average 23.2mph